Twisted Tales B-
Year Released: 1994
MPAA Rating: Not Rated
Directors: Rita Klus, Mick McCleery, Kevin J. Lindenmuth
Writers: Rita Klus, Mick McCleery, Kevin J. Lindenmuth
Cast: Freddie Gano, John Collins, Brett Heniss, Mick McCleery, Laura McLauchlin, Olga Jiminez, Monica Baxavanis.
Twisted Tales is a 1994 anthology movie from Kevin Lindenmuth's Brimstone Productions. It was made before the indie company's breakthrough film, the often acclaimed and deliciously original Addicted to Murder (1995), which was one of the first micro-budget features to be widely distributed by Blockbuster Video. Twisted Tales has three stories, each of which focuses on the occupants of a New York apartment during three different years. Shot on video with a tight budget, it may lack technical polish (the sound quality is rough in spots), but it makes up for that with intriguing ideas and solid entertainment value. Yes, boys and girls, this anthology is a lot of fun -- especially the last story, but I'll get to that later.
The first story, "Nothing But The Truth," centers on a compulsive liar named Joey (Freddie Gano). We all know a guy like him: he brags to his friends about sleeping with girls who actually slammed the door in face, he thinks he's more macho than he really is, and he lies and exaggerates almost by default. He's harmless, really, but what if his lies started becoming the truth? You can bet it might have deadly consequences. This one was directed by Rita Klus, based on a story by Mick McCleery. Freddie Gano, who kinda resembles John Travolta (or is it just me?), makes the main character an endearing idiot. It's a decent short, but it's the weakest of the bunch.
"The Shooting" was directed by Mick McCleery (who also directed The Killing of Bobby Greene, a micro-budget film I liked a lot). Tommy (Brett Heniss) is on the run from the law after shooting his brother dead in their apartment during an argument. While Tommy's psychic girlfriend is helping police to track him down, he runs into a fellow murderer. I don't want to spoil things, so I won't say any more about the plot. I'll just say that there's a cool twist at the end.
The final tale, "Hungry Like a Bat," is a deftly clever horror-comedy that follows the personal problems of a guy (Mick McCleery) who is both a vampire and a werewolf. He isn't accepted by either the vampire or werewolf cliques because, of course, he isn't pure. Poor guy. He's also falling for his beautiful next-door neighbor (Laura McLauchlin), but he fears that it's only a matter of time before his nocturnal afflictions force him to do something very, very bad to her. Yeah, and you thought you had problems?
With "Hungry Like a Bat," writer-director Kevin Lindenmuth (Addicted to Murder, Rage of the Werewolf) once again shows that he's adept at putting fun and original spins on typical horror subjects like vampires and werewolves. It's smart and funny, with engaging performances by McCleery and McLauchlin. The ending ties all of the stories together, bringing everything to a satisfying conclusion. It's not often a horror anthology leaves you smiling like this one.
The final story is the best in Twisted Tales, but the first two aren't bad at all. Whenever I think about Twisted Tales, I'll be thinking of Lindenmuth's splendidly enjoyable "Hungry Like a Bat" and that doomed girl, in wide-eyed shock, uttering, "Oh, fuck me," right before Mick McCleery -- sporting a cheesy werewolf mask -- goes in for the kill. It's a classic B-movie moment, which is probably worth the price of admission on its own.
Review published 09.22.2000.
Follow Michael Scrutchin on Twitter or Letterboxd.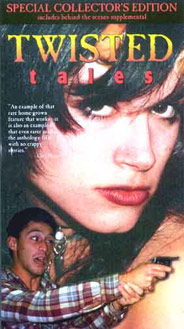 ---

---