Walk the Line B
Year Released: 2005
MPAA Rating: PG-13
Director: James Mangold
Writers: Gill Dennis, James Mangold
Cast: Joaquin Phoenix, Reese Witherspoon, Ginnifer Goodwin, Robert Patrick, Dallas Roberts, Shelby Lynne, Dan John Miller, Larry Bagby.
One gets the sense that Walk the Line would have never been made were it not for the success of Ray last year. The two pictures certainly have a lot in common. Too much at times. Walk the Line follows the same straightforward structure as its predecessor, and emphasizes the same notes of struggle and redemption. Like Jamie Foxx's Ray Charles, the film's subject, Johnny Cash, also battles drugs, suffers an early familial loss that haunts him into adulthood, and dives into success while neglecting a troubled life at home. The cadence in these tropes is too similar to miss, and Walk the Line never escapes a niggling sense that the filmmakers stuck to the biopic formula like glue.
The difference -- and the quality that allows it to stand on its own -- is its chosen focus. Rather than concentrating on Cash's artistic development, it posits his life as a romance: a decades-long give-and-take pursuit of fellow country singer June Carter. Director James Mangold uses the music as a garnish for their relationship, rather than a centerpiece; indeed, besides a single early audition and a lifelong fascination with Folsom Prison (culminating in his legendary 1968 concert there), we see very little of Cash's creative world. Instead, his hopes, fears, and heartbreaks are all filtered through the prism of the woman he loved.
The choice proves a canny one. Mangold understands how to deliver romance without the moon eyes or saccharine coating, and his careful, intimately close camera gets us under the skin of his chosen couple. Cash (Joaquin Phoenix) is a poor boy made good, whose father (a very good Robert Patrick) considers him useless, and whose adult search for fame serves as a surrogate for the love and respect he truly craves. Carter (Reese Witherspoon) is his childhood crush, a star almost from birth (she hailed from a family of prominent performers) who's been around the block and knows how to separate the public from the private. Cash's extended efforts to win her are almost derailed by his growing addiction to pills, and by the wounds of his childhood that stubbornly refuse to heal.
Mangold develops the bond between them with great care and attention, interspersing it with some terrific musical choices that match the pertinent dramatic moments well. Under his direction, we see Cash as a surprisingly defensive man, never quite comfortable with his place in the world. His first wife Vivian (Ginnifer Goodwin) is often an albatross around his neck, less for her own failings than for her exasperated normalcy that he rapidly outstrips. Cash labors to navigate between the woman he has and the one he deeply wants, neither callous enough to abandon the former, nor guilt-ridden enough to swear off the latter. Phoenix portrays this dilemma in an expert performance, revealing the singer's vulnerabilities without reducing his magnetic presence.
The film's greatest strength, however, comes from Witherspoon. Her star persona is tailor-made for Carter: funny, exuberant, and vivacious onstage but masking a knowing intelligence beneath. She becomes a steadfast rock in Cash's life, neither doting nor indulgent, but seeing things the way they are with true, clear eyes. Her tempered rejection of Cash's advances becomes a bracing dose of reality, grounding both her growing affection for him and the pained, flawed way in which he goes about securing it. Witherspoon has rarely been so poised or in control, and her work here is an eye-opening reminder of her capabilities as an actress.
The camera's intimacy also works wonders with the songs themselves -- often presented without fanfare or varnish. Both Phoenix and Witherspoon perform their own numbers, and their singing has been justly praised as accurate and evocative. Like Ray before it, Walk the Line has a real trump card with its music, and hearing classics like "Ring of Fire" and "Folsom Prison Blues" is always a pleasure. Sadly, the film offers precious little insight into how those songs came to be (beyond the aforementioned familial clichés and a few brief glimpses of scribbling on paper). With a talent as renowned as the Man in Black's (or Carter's for that matter), it feels presumptive to take their work as a given. That, combined with the pedestrian structure, gives the impression that no one wanted to go for broke here. Fortunately, Mangold's direction and the lead performances keep the core of the film on track. Walk the Line isn't an ideal biopic, and more can certainly be said about the great singer at its heart. But it does justice to him in its own way, and even finds something memorable in his long and tortured path to true love. Thanks to the hard work by the principles, we're still there with him at the end.
Review published 11.21.2005.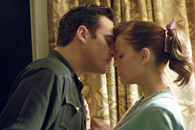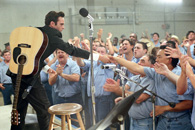 ---

---