Witchouse 3: Demon Fire C+
Year Released: 2001
MPAA Rating: R
Director: J.R. Bookwalter
Writers: Matthew Jason Walsh, J.R. Bookwalter
Cast: Debbie Rochon, Tanya Dempsey, Tina Krause, Paul Darrigo, Brinke Stevens.
"Three hot babes in a beach house," says director J.R. Bookwalter when asked to describe Witchouse 3: Demon Fire. With the third entry in Full Moon's franchise, Bookwalter has made another non-sequel, disregarding the previous films and taking a different approach. Yes, there's still a witch named Lilith, but the movie is really more of a melodrama focusing on -- you guessed it -- three hot babes in a beach house.
The film begins with Annie (Tanya Dempsey) fleeing from her asshole boyfriend (Paul Darrigo) who gave her nice black eye to show off. She shows up at the beach house where her friends Stevie (Debbie Rochon) and Rose (Tina Krause) are shooting a documentary on witchcraft. Upon seeing Annie's face, Stevie says, "Looks like you fell down a flight of abusive boyfriends." Uh, yeah. Anyway, the girls take a dip in the hot tub, get drunk, and then decide to hold a séance -- which, in a horror movie, is never a good idea. Soon thereafter, Weird Stuff™ begins to happen, punctuated by the occasional appearances of long-dead witch Lilith (Brinke Stevens), who likes to snarl and grin devilishly.
Yes, you heard right: this time around scream queen Brinke Stevens has taken over the role of Lilith, previously played by Ariauna Albright. While Albright fans might be disappointed, Stevens makes an admirable replacement, but Lilith still isn't the least bit scary. Besides, Lilith is barely present in this one, only sporadically popping up behind our main characters to give them little boo scares -- or to spy on Tina Krause getting out of the shower (something I don't blame her for one bit).
Witchouse 3: Demon Fire is actually more overblown melodrama than horror. The bulk of the film involves the three girls bickering about the strange going-ons, blaming each other, suspicions igniting. Hey, maybe all this weird stuff isn't supernatural at all -- maybe it's Annie's boyfriend trying to get his revenge, as Rose suggests at one point. Yeah, whatever. The film moves along at a surprisingly brisk pace, leading up to a wickedly fun climax in which director J.R. Bookwalter stages his first catfight since Jennifer Huss and Ariauna Albright duked it out in 1996's Polymorph. The movie's 77 minutes are up before you know it, but the movie is just as easy to forget as it is to kick back and watch.
It's safe to say that I liked Witchouse 3, but I prefer the wild ambition of Bookwalter's earlier efforts like The Dead Next Door, Ozone, and Polymorph. Yes, this film was designed for simplicity's sake. It was made for $26,000 with only five cast members and shot in nine days. It's impressive what was accomplished with so little, and the film (shot on DVCAM video) looks and sounds slick and professional. Very good score I might add. The cast does a pretty good job, too -- most notably relative newcomer Tanya Dempsey as the naïve and uncertain Annie. I'd be willing to bet that Dempsey will have a nice career ahead of her. But while the movie is often fun, it's never truly exciting until the climax -- and by then it's too late. Overall, I can't help but feel that Witchouse 3 is missing that renegade charm that made Bookwalter's earlier films so special.
The DVD, however, is downright awesome. It features the film in widescreen with Dolby Digital 5.1 surround audio; a half hour of home movies shot during the production; cast interviews with Debbie Rochon, Tanya Dempsey, Paul Darrigo, and Tina Krause; bloopers and outtakes; stills galleries; cast and crew filmographies; a host of trailers for current and upcoming Tempe Entertainment DVDs; and a hilarious easter egg hidden away somewhere. And I haven't even mentioned the whopping three commentary tracks: one with director J.R. Bookwalter and star Debbie Rochon; another with stars Tanya Dempsey, Brinke Stevens, and Paul Darrigo; and the final one with producer Tammi Sutton, director of photography Danny Draven, and crew member "Spud" Scaduto.
Witchouse 3: Demon Fire may be well-made forgettable fun and not much more, but the DVD certainly holds a nice spot in my collection. I hope Tempe Entertainment gives the same deluxe treatment to the upcoming Bloodletting disc. I think they will.
Review published 01.23.2002.
Read our interviews with J.R. Bookwalter and Debbie Rochon.
Follow Michael Scrutchin on Twitter or Letterboxd.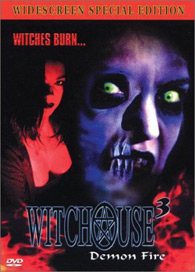 ---

---