XXX B
Year Released: 2002
MPAA Rating: PG-13
Director: Rob Cohen
Writer: Rich Wilkes
Cast: Vin Diesel, Asia Argento, Marton Csokas, Samuel L. Jackson, Michael Roof, Richy Muller, Werner Daehn, Joe Bucaro III.
I've always found August one of the most curious times of the year, moviewise. The summer season is still underway, but most of the really big films have come and gone. The event pictures are released in May or June, with the whole of the hot months to suck in the dollars, and they usually run their course by August... leaving the multiplexes free for an entirely different sort of film. "Exploitation" is too harsh, but the annual August crop always lacks the pedigree of even a Spider-Man or an Attack of the Clones. They openly pander for our money, using the most expedient form of gratification to keep us entertained. Yet in their brazen shilling lies a certain charm: a rough honesty devoid of pretense. With the heavy hitters spent, and Oscar season months away, they revel in the dog days... these, the frat boys of cinema who come bellowing out of the house to throw up on the lawn.
God, I love them.
In XXX, director Rob Cohen and actor Vin Diesel have crafted perhaps the ultimate example of a Dog Day movie. Dirty, loud and exuberant, it nakedly plays to our basest needs with no apologies and no regrets. Its stated purpose is to update James Bond superspies for the extreme sports generation, and in that, it succeeds admirably. Never mind that it's often crude, gauche, and obnoxious. It never pretends to be otherwise, and in its flagrant honesty, it earns a strange sort of respect.
It also serves as a great vehicle for Diesel (no pun intended). His character, Xander Cage, is the sort of too-big-for-his-bitches punk protagonist that normally sets my teeth on edge. Yet he plays him with such relish and charisma that you can't help but warm to him. Recruited by the NSA following a spectacular (and illegal) stunt off a bridge, "Triple X" soon finds himself up to his eyeballs in sinister Eurotrash (led by Marton Csokas, the evil genius du jour), beautiful women (led by Asia Argento, Dario's little girl), and the ever-present plot to destroy the world. Only this time, the villains are of the postmodern primitive variety: sporting tattoos and body piercings rather than dapper suits or cigarette holders. With his shaven head, bulging biceps and the three "Xs" painted on the back of his neck, Cage is the perfect man to infiltrate their ranks.
Cohen's style is often slapdash -- the film comes together haphazardly at best -- but also shows a lot of energy and flair. XXX nicely marries Cage's X-Games background with classic Bond sensibilities. The two elements work surprisingly well together. We get the standard mountain hideout... and Cage snowboarding ahead of an avalanche to destroy it; a missile full of poison gas... and Cage parasailing onto a speeding boat to stop it; and so on. The concept could have become a bad gimmick, but Cohen makes it feel natural and slick. The action scenes are always sharp, while paying a strange homage to the Bond films that inspired them. XXX pokes vicious fun at the classic tuxedo-clad spy (the film opens with a prime example who tries to escape the bad guys by hiding in a Rave; he's spotted in an instant and gunned down), but it also has a great deal of respect for its predecessors. Strip away the Gen-X trappings, and XXX could have easily been Pierce Brosnan's next outing.
On the other hand, there's no way Brosnan could match the turbo-charged engine of unstoppable cool that is Diesel. He dominates the proceedings with a true movie star's presence, skirting the film's rough spots with the same ease his character slides around obstacle after obstacle. Cage has no loyalty to his country; patriotism plays no role in his actions. He acts solely out of self-interest, playing spy only to stay out of jail. Yet he slowly develops a sense of morality, learning to do more than just live for the thrill. Diesel knows how to play to our sympathies, and yet still cops an in-your-face attitude, a tricky balance that he maintains with no apparent effort. It helps to have a steely mentor/foil in Samuel L. Jackson, who as NSA Agent Gibbons, can smack our hero around whenever he gets too uppity. That -- and Diesel's inescapable appeal -- serves as a pressure valve that keeps us from getting frustrated with all the Mountain Dew posing.
XXX is a franchise in the making, and talks were underway for a sequel even before it officially opened. I don't think Cage's brand of superheroics could handle a bad plot the way Bond's could, but with this first outing, he's earned the right to try. Maybe he could make a regular August appearance, signaling the beginning of Hollywood's annual mosh pit as no one else could. You may not want XXX hanging around too long, but it knows how to have a good time... and the dog days wouldn't feel right without it.
Review published 08.12.2002.
For another opinion, read Eric Beltmann's review.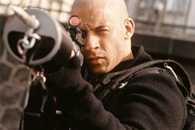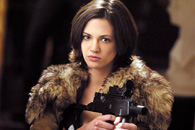 ---

---