Zombie Bloodbath B
Year Released: 1993
MPAA Rating: Not Rated
Director: Todd Sheets
Writers: Todd Sheets, Jerry Angell
Cast: Auggi Alvarez, Chris Harris, Cheryl Metz, Frank Dunlay, Jerry Angell, Cathy Metz, Jodie Novick, Tonia Monahan.
The first film in Todd Sheets' shot-on-video Zombie Bloodbath trilogy exemplifies truth in advertising. What it lacks in technical polish it makes up for in sheer, infectious fanboy exuberance -- you feel the love for Romero, Fulci, and other purveyors of cinematic gut-munching exuding from the muddy, analog-smeared S-VHS-lensed frames. The plot? Radiation from a power-plant meltdown years earlier results in a horde of over 700 flesh-hungry zombies descending upon a Midwest town, making things a total bummer for some teenage amateur filmmakers (and their parents) and two rival heavy-metal girl gangs. Sheets may have improved as a filmmaker over the two sequels, but this first one has a shaggy-dog charm that's tough to beat. Long available in an 88-minute rough cut on VHS thanks to unscrupulous distributors, Todd Sheets' tighter 70-minute director's cut finally makes its debut on the two-disc Zombie Bloodbath trilogy DVD set from Camp Motion Pictures. Don't be put off by the shorter running time -- you're not getting a neutered version of Sheets' over-the-top carnage, just losing some excess fat. It still delivers on everything promised by its title. And then some.
Followed by Zombie Bloodbath 2 and Zombie Bloodbath 3.
Review published 06.12.2007.
Follow Michael Scrutchin on Twitter or Letterboxd.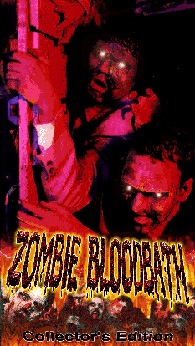 ---

---