10 B
Year Released: 1979
MPAA Rating: R
Director: Blake Edwards
Writer: Blake Edwards
Cast: Dudley Moore, Julie Andrews, Bo Derek, Robert Webber.
10 is one of those comedies where everything happens according to a particularly nasty variant of Murphy's Law: if anything can possibly go wrong, it will -- in the most heinous manner conceivable. Dudley Moore stars as George Webber, a famous songwriter who gets kicked in the bollocks by his midlife crisis when he glimpses Jenny (Bo Derek), an exceedingly pretty girl who is, unfortunately enough, on her way to her wedding. Over the course of the next few weeks he becomes obsessed with the girl, among other things chasing her all the way to Mexico, where she is having her honeymoon. Basically, it's one of those cases of "Man has everything he needs but doesn't realize it, man falls in love with girl who seems unattainable, man incredibly enough gets girl that seems unattainable, man realizes unattainable girl ain't so hot after all, man goes back to having everything he needs." Other cases of this formula? Oh, I'm sure you can think of some. I really can't be bothered.
Probably the best thing about this film is the way Blake Edwards extracts humor from situations by laying back and letting the viewer find it. There's a scene when Moore is being shown to his room in Mexico; the hotel attendant opens the door and walks in, prattling on and on about the room's grandeur, while in the background, just outside the door, we see Moore leaning against the wall half asleep, his shirt soaked with sweat. This kind of humor gets me every time. As I perhaps once heard someone say, the funniest things are always the ones that aren't intended to be funny (or at least convincingly give the illusion that they're not trying to be funny). And this film's sprinkled with humorous little moments like those. "But is it any good?" I hear you cry.
A fair question, to which the answer is: "Sure." That's really the best answer that springs to mind when I think of this film. Sure, it's a good film. Sure, there's laughs aplenty. Sure, Dudley Moore is pretty good in the first of many roles in which his speech is slurred pretty much the whole way. Sure, Julie Andrews is cute, even though I did sometimes half expect her to pick up an umbrella and fly away. Sure, Bo Derek is a babe, even though she supports my theory of breast size being inversely proportional to acting ability. Sure, there's a cute little moral about appreciating what you have and finding out that the reality of romance is more appealing than the fantasy. Sure, sure, sure.
This is the kind of film to see on a rainy afternoon when you have absolutely nothing to do. It won't particularly educate you, it won't make you think too hard, and it won't inspire you to go out and do something with your life. It will, however, give you a couple hours of good entertainment and solid laughs, and quite possibly a warm little buzz, too. So... should you see this movie? Sure.
Review published 03.12.2001.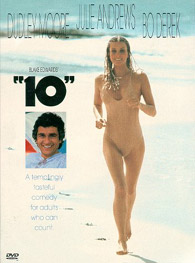 ---

---