Big Bad Love B
Year Released: 2002
MPAA Rating: R
Director: Arliss Howard
Writers: James Howard, Arliss Howard (based on stories by Larry Brown)
Cast: Arliss Howard, Debra Winger, Paul Le Mat, Rosanna Arquette, Angie Dickinson, Michael Parks, Alex Van, Zach Moody.
Leon Barlow is in a rut. He's a shit-talking, hard-drinking, bar-fighting asshole who spends much of his time getting tanked with his drinking buddy and taking odd jobs to make ends meet. He's also a fiction writer, spending hours upon end pounding away at his battered old typewriter only to receive rejection letters from the magazines he bombards with manuscripts. He's divorced, but he still gets his two kids on the weekends. We can see that Barlow's on a downward spiral, but he's too careless to do anything about it. He would rather ignore his real-life problems and escape into the fantasies in his head, much like Billy Fisher in John Schlesinger's Billy Liar. When tragedy strikes, it just might be the kick in the ass Barlow needs to wake up.
In Big Bad Love, Barlow is played by Arliss Howard with such unblinking honesty that it's tough to hate the guy. Sure, he's a jerk. But he knows it. And there's some genuine self-loathing going on behind those eyes. As frustrating a jerk as Barlow is, however, he's got charm. There's a good guy in him somewhere and that, coupled with his charm, is probably what makes him tolerable, even endearing, to his ex-wife (Debra Winger), his mother (Angie Dickinson), and his buddy Monroe (Paul Le Mat). Throughout the movie, Barlow does bad things, makes horrible mistakes, and, at the end of the day, they still accept him. He's lucky.
Well, maybe not.
If I've made the film sound depressing, that's not exactly the case. The movie has a quirky sense of humor, displayed vividly in the fantasies that play out in Barlow's head. Indoor rainstorms, cows unexpectedly showing up at the typewriter (uh, don't ask), Barlow dodging grenades and land mines as he strolls up to his ex-wife's house, and other weird imagery punctuate an otherwise realistic honky-tonk Mississippi atmosphere. The real and the surreal collide, forming a magical realism that's messy and chaotic, but always fun to watch. Yes, there are lots of laughs, but there's also real human drama at the heart of Big Bad Love.
Much of the time, it hits the emotional notes just right. I only wish that the most heartbreaking scene in the film hadn't opted for a comedic punch line, nearly destroying the dramatic impact of the moment. But even with a few missteps here and there, Big Bad Love has a good cast that keeps the film grounded. Arliss Howard, who also directed the film, accomplishes the lofty feat of making a jerk like Barlow sympathetic. Likewise, the rest of the cast, including Debra Winger as Barlow's ex-wife and Paul Le Pat as his spirited drinking buddy, is tough to find fault with.
The film is based on a collection of stories by Larry Brown, and that may explain its ragtag, stitched-together quality. Somehow it works, even when the narrative seems to be going nowhere, wandering off on tangents that may or may not have any relevance later on down the line. That's one of the things I liked about the movie: it doesn't seem like it's following a fixed path to the finish. Unlike so many movies, it feels alive.
Review published 04.05.2002.
Follow Michael Scrutchin on Twitter or Letterboxd.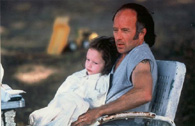 ---

---