Comic Book Confidential B+
Year Released: 1989
MPAA Rating: Not Rated
Director: Ron Mann
Writer: Ron Mann
Cast: Robert Crumb, Stan Lee, Lynda Barry, Charles Burns, Sue Coe, Will Eisner, Al Feldstein, William Gaines, Bill Griffith, Jaime Hernandez, Jack Kirby, Harvey Kurtzman, Paul Mavrides, Frank Miller.
Who says comics are all about superheroes in tights? Certainly not Ron Mann, who directed Comic Book Confidential, a funny and insightful documentary focusing on comics and the artists (yes, artists) who create them. The film chronicles the evolution of comics from 10-cent funny books (which blossomed from newspaper funnies) to the EC horror comics of the 1950s (which inspired a censorship board called the Comics Code Authority) to the superhero revival that began in the '60s and, finally, to the underground comics that began cropping up in the late '60s thanks to folks like Fritz the Cat creator Robert Crumb.
The film documents the industry well into the 1980s, so it has a lot of material for an 85-minute film to cover, but it never suffers from information overload. Instead, Mann deliberately skims the surface on some material (superhero comics, for instance), while spending extra time delving into more interesting movements and artists (like underground comics and Crumb). This isn't done to slight the superhero comics, which are important, but rather to illuminate aspects of comic culture of which many people aren't aware. Most of the 22 artists interviewed (including Stan Lee, William Gaines, Sue Coe, Jack Kirby, and Art Spiegelman) are given due screen time, telling where they get inspiration and offering opinions on comics as an art form, and many even read aloud from their work as it's shown on-screen. Colorful animation, interesting (and often hilarious) archival footage, and a soundtrack spiked with rock 'n' roll oldies help keep things lively and engaging -- yes, this is a fun documentary.
One of Comic Book Confidential's many highlights involves William Gaines (publisher Tales from the Crypt and other EC comics) recalling the formation of the Comics Code Authority. Gaines says, "The first thing they did was outlawed the words horror, terror, weird, and I think any word that I had in any of my titles." This was just the beginning of a movement that tried to keep many comics out of the hands of impressionable kids, who apparently needed exposure to just a few all-in-good-fun gruesome images to fuel their transformation into depraved monsters. An outrageous clip from a propaganda film shows a group of kids becoming increasingly antisocial and violent as they sit around reading comic books. As is often the case, entertainment takes the blame for the misguided among America's youth, instead of focusing on the root of the problem, which is usually poor or negligent parenting. Did I just say that? Indeed, I did.
Comic Book Confidential has been released on DVD by Home Vision Entertainment. The film has been remastered (it looks fantastic) and the disc includes artist bios, a short interview with Mann, a comic book archive with a full story by each of the 22 featured artists, trailers for this film, Grass, and Twist (which are also on DVD, along with Mann's Poetry in Motion), and an introduction by filmmaker Kevin Smith. I was never into comics as a kid, but Daniel Clowes' masterpiece Ghost World recently had a huge impact on me and reaffirmed that superheroes in tights only occupy a portion of the vast world of comics. (It should be noted that Clowes and other important artists who emerged after the late '80s aren't profiled here, as the film is a 1989 release.) Aside from delivering 85 minutes of lively entertainment, Mann's film has enhanced my knowledge of the industry and given me more to explore.
Review published 08.15.2002.
Follow Michael Scrutchin on Twitter or Letterboxd.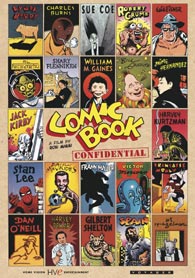 ---

---