Don't Watch This Show! B-
Year Released: 1999
MPAA Rating: Not Rated
Director: Mick McCleery
Cast: Mick McCleery, Brett Heniss, Mike McAleer, John Kolinsky.
Don't Watch This Show! is a low-budget sketch comedy show that runs about 30 minutes each episode. This video has Episodes 1 and 2, plus some behind-the-scenes interviews with the cast -- who, by the way, usually conceive of the sketches while drinking. It shows. And I don't blame 'em one bit, since many of the sketches are pretty damn funny. And all the sketches -- even the ones that fail miserably -- have such a happy-go-lucky enthusiasm that even when I wasn't laughing, I was at least entertained by the energy these guys put into this thing.
The four main performers in Don't Watch This Show! -- Brett Heniss, Mike McAleer, John Kolinsky, and Mick McCleery (Addicted to Murder, The Killing of Bobby Greene) -- are obviously having fun. In my favorite recurring skits, Brett Heniss and Mick McCleery play two idiots who stand around making stupid comments about people. They see a jogger pushing against a telephone pole, stretching, and one of them quips, "You see dat guy? He tinks he can push over dat pole!"
There's some funny stuff like "Defenders of the Diaphragm" (use your imagination), the "Ask Hitler!" segments (who better to give advice on everything from dating to the loss of loved ones?), a cartoon with an old man and a dog who talk about sex with some crazy birds (don't ask), and a skit where the actors in a crime drama on TV get sidetracked by the lovemaking going on in front of the TV set of their viewers (my personal fave). But some of sketches go on too long without delivering a strong punch line, while others don't work at all. "The Retarded World," a spoof of MTV's The Real World, is perhaps the low point of the entire tape -- and it's sad because it takes up most of the time on Episode 2. I'm not trying to be all P.C. or anything, but please tell me what's so funny about four grown men acting like they're retarded?
Oh. Well, then. I'm sorry I missed that.
So, would you like Don't Watch This Show!? I can't say. If you're a fan of silly lowbrow sketch comedy, you might dig it. Despite some missteps here and there, I enjoyed it. It brought back memories of all those stupid comedy sketches my friends and I shot on video a few years back. Sure, Don't Watch This Show! is silly, crude, and the humor doesn't always hit the mark, but these guys are having fun. And, hell, I laughed a lot. Someone give these guys a bigger budget and a deal with Comedy Central. They might give The Kids in the Hall a run for their money.
Review published 03.13.2001.
Follow Michael Scrutchin on Twitter or Letterboxd.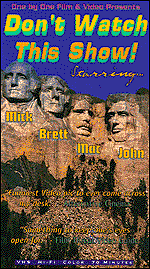 ---

---