Satan's School for Lust D
Year Released: 2002
MPAA Rating: Not Rated
Director: Terry M. West
Writer: Terry M. West
Cast: Misty Mundae, Darian Caine, Barbara Joyce, Kelli Summers, Ruby LaRocca, Cherry Moonshine.
On the DVD insert, writer-director Terry M. West describes Satan's School for Lust as "dark, horrific erotica, inspired by the likes of Jean Rollin and Jess Franco," and then he warns against searching "for the comfortable boundaries of silly softcore here, because you won't find them." Maybe he was speaking of another film. The movie I saw is ridiculous softcore porn with nothing even remotely unsettling or horrific about it, although the pretense for creepiness might be there.
Misty Mundae plays a new girl at the Diablo School For Girls, where she unwittingly becomes the key ingredient in a naughty ceremony designed to conjure up Satan. Or something like that. Barbara Joyce is the kinky headmistress, Ruby LaRocca is Mundae's goth-chick roommate, and Kelli Summers, also known as The Worst Actress on the Face of the Earth™, is a reporter investigating the regular disappearances of many of the girls enrolled in the school. Not that any of this really matters. The plot is merely there to help string along the surprisingly dull lesbian sex scenes. Even some mischievous spanking and the unconventional use of a wooden cross doesn't spark any life into this silly but dreary affair.
I suppose Jess Franco fans might find Satan's School for Lust worthwhile, as it apes several Franco trademarks -- including the saturation of some scenes in red or blue light, never-ending but unerotic lesbian encounters, laughably bad acting, and ludicrous dialogue. I hate Franco (as you know if you've read my review of Mari-Cookie and the Killer Tarantula), so this was a film I was likely to dislike from the start. Technical problems make it even more annoying. Some two-way dialogue scenes were obviously shot without both actresses present at the same time, so it cuts back and forth to a one-shot of each as they speak, and the room tone (a loud hum) goes in and out with each cut. Nice.
The DVD includes deleted scenes, behind-the-scenes footage, a trailer vault for Shock-O-Rama and Seduction Cinema titles, and a full-color insert with photos and commentary. The best extra on the DVD, however, is the inclusion of Terry M. West's debut film Blood for the Muse, which I have issues with but looks like a masterpiece in comparison to the main attraction. Interestingly, Satan's School for Lust was originally titled Satan's School for Sluts, which has a better ring to it if you ask me.
Review published 01.22.2003.
Follow Michael Scrutchin on Twitter or Letterboxd.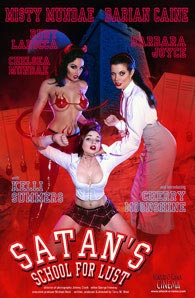 ---

---