A Very Long Engagement A+
Year Released: 2004
MPAA Rating: R
Director: Jean-Pierre Jeunet
Writers: Jean-Pierre Jeunet, Guillaume Laurant (based on the novel by Sébastien Japrisot)
Cast: Audrey Tautou, Gaspard Ulliel, Jean-Pierre Becker, Marion Cotillard, Chantal Neuwirth, Dominique Pinon, Jodie Foster.
A Very Long Engagement represents cinema at its most glorious: sumptuous imagery married to a muscular plot and characters as memorable as any yet seen this year. Director Jean-Pierre Jeunet discovered the original novel by Sebastian Japrisot -- a sobering tale of love in the Great War -- and any other director might have turned it into an unwatchable episode of Masterpiece Theatre. But in his hands, it rises to the level of a masterpiece, giving life to the soaring inner eye that every good novel can evoke, and rendering it as a newfound vision that could only appear on the motion-picture screen.
Jeunet has a flair for imaginative absurdity and the kind of dark whimsy favored by the grimmest of fairy tales. His confection Amélie was breathtakingly original, capturing the swoon of romance as few have before it. A Very Long Engagement brings the same sensibilities to a much more somber subject, evoking longing and loss while positing a unique comment on the horrors of World War I. The absurdity is still there -- now wearing a Strangelovian makeover in the trenches of the Western Front -- and gallows humor has rarely found such an appropriate target. Yet Jeunet tempers it with a reflective maturity, eschewing ghoulish jokes for the heartfelt sorrow of so many killed for so few reasons. Framed by an elegant mystery pursued by an indomitably hopeful heroine, it remains thoroughly compelling from one end to the other.
It helps that said heroine is played by Audrey Tautou, who proved utterly irresistible as the title character in Amélie. Like the rest of the production, she brings a more down-to-earth quality here as Mathilde, the hobble-legged childhood sweetheart of a young man sent off to war. When her paramour is reported dead -- thrust into no-man's-land as part of a quintet of condemned prisoners -- the rest of her family encourages her to move on. But she can't abandon him, though all the evidence is against her, and with the help of a distant guardian, launches an investigation into his supposedly final days. In her search, Mathilde takes on the burden of his fellow prisoners, absorbing their experiences and carrying them through to their family and loved ones. A Very Long Engagement frames her journey as a series of flashbacks, presenting the same events in shifting Rashomon-style perception as each uncovered letter home or tragic reminiscence adds a new piece to the puzzle. Jeunet gives it all a haunting air of magical realism, wherein character quirks and odd coincidences bring us face to face with the scarring realities of war. Mathilde's journey is sorrowful -- populated by the lingering dead and the bereaved survivors they left behind -- and the changes she goes through are heartbreaking at times. But so too does A Very Long Engagement infuse us with her sense of hope, leaving us hanging on the outcome with palpable anticipation.
And Jeunet's vision remains as unique as ever. Few directors make such use of the medium as he does, creating a surreal, arresting atmosphere that neither words nor still images can conjure. Fans of Tim Burton or Terry Gilliam will recognize it immediately, and yet Jeunet's work is purely his own, owing nothing to any other single director. The screenplay (written by Jeunet and Guillaume Laurant) brings strong discipline to his roving camera and never lets the breathtaking images run away with its story or characters. The details brim with imagination, adding a unique flourish to every shot and set, while key elements of the plot are exposed and turned on their ear with a skillful magician's misdirection. The results are thrilling and sublime, delivering a beautiful message while scarcely making a ripple in the film's near-perfect dramatic arc.
Its most powerful theme is the one most difficult to achieve: optimism in the face of near-certain tragedy. Too often such a conceit is destroyed by schmaltzy sentiment and heavy-handed presentation. It's easy for hipsters to deride it on those grounds alone: to put an ironic spin on it and distance us from its effects. But to retain one's hope in the face of all obstacles -- as Mathilde and the dedicated filmmakers behind her do -- is a rare feat indeed, made all the rarer by the fact that they convey it so successfully. It reminds us why we cherish such experiences, for they are so hard to articulate properly. But Jeunet makes the impossible seem like child's play. When the rush finally fades, and A Very Long Engagement leaves you to ponder its achievement, the only word left behind is wonderful, wonderful, wonderful, wonderful, wonderful.
Review published 12.04.2004.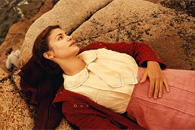 ---

---